Most TVs today feature speakers that leave you leaning in the direction of the screen or simply maxing out the volume to hear everything going on. One way to solve this problem is with a good sound bar. But what if you don't want to shell out close to a thousand dollars for a top-of-the-line surround sound system? Well, thankfully, there are options. I picked up a Vizio V51-H6 sound bar, and I'd like to offer my personal surround sound review.
The Vizio V51-H6 is an excellent surround sound option for most cord cutter households. While it lacks some of the features and overall depth of sound of the most expensive soundbars on the market, it does an incredible job at delivering clear, high-quality sound at an affordable price.
Find the right sound solution for your specific situation
Let me say right off that the Vizio V51-H6 was a huge step up from our previous sound system setup. We used either the internal TV speakers on our old 43" Samsung LED, or our onn Bluetooth speaker (that we still use at times, especially at night).
We've had soundbars with subwoofers before. A good sound system is generally a priority for me, but I hadn't picked up another one since our last move. We're also pretty budget-conscious, which is why we got interested in cord cutting to begin with.
Side note: Our first solution was that little onn Bluetooth speaker that I just mentioned. And I have to say that it worked great. I highly recommend them. If you need a really good-sounding portable Bluetooth speaker at a good price, they're great. We picked ours up at Walmart for about $50 or so.
However, the onn speaker wasn't exactly what we needed for our family. So, I kept my eyes open for the right surround sound solution for our home entertainment.
My overall impressions of the Vizio V51-H6 sound bar
I had come across this particular Vizio 5.1 sound bar a while back while shopping at Costco. My daughter and I like to listen to the sound bars while we shop, and whenever we headed out to Costco, we kept coming back to the V51-H6. We just liked the way it sounded.
I know a sound bar can sound very different in a home than it does in a big store, so I was curious how it would fit in our front room, sonically speaking.
Unboxing was pretty much as expected. The quality of the parts was actually better than I had hoped it would be. More on that in just a bit. When I got it all connected, we fired it up and were very pleased indeed.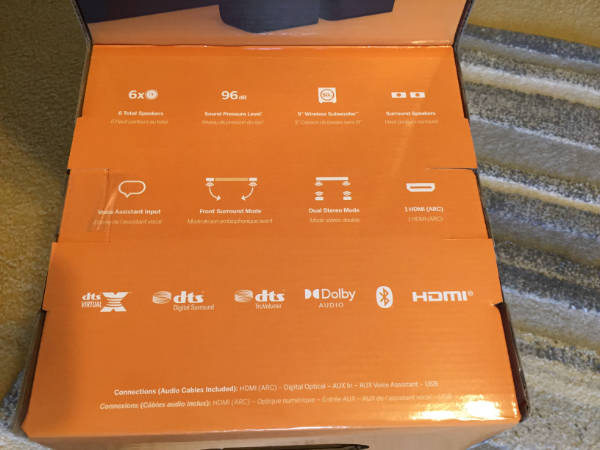 You should set your expectations with a budget sound bar
Realistic expectations are extremely important, especially when you're trying to solve a problem on a budget. While the Vizio V51-H6 soundbar is a sound solution that I would highly recommend, it's crucial to remember that this is sound equipment on the low end of the cost spectrum. You aren't spending over $1,000 for a high-end Bose or Sonos system. 
Having said that, I was very impressed with the quality of the sound and the overall build quality of the components as well, especially at this price point. It's exactly what we needed for our movie and music-loving household.
The soundbar is solid and heavy. The subwoofer is also solid and well-made, and the satellites don't feel chintzy or breakable at all. I like the texture of the outer coverings, and the small rubber feet are a great touch as well.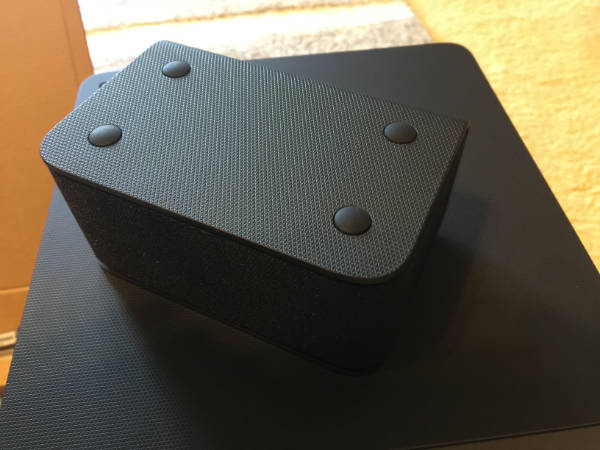 Sound bar volume
The Vizio V51-H6 is clearly much louder than a normal LED TV, which can be fun in itself. But what's more important about the fact that the speakers are able to go so much louder is that we don't have to get near the upper end of the capabilities of the speakers just for higher volumes. So, we don't have to sacrifice sound clarity for the sake of louder volumes anymore.
But yeah, during a movie, louder can be really fun. Let's not overlook this fact. A Marvel feature, for instance, is a completely different experience when you're surrounded by the clear, "strong" sounds of the movie. And when you have a clearer, louder sound it's especially fun.
The fullness and quality of the sound
Something that is related to louder volumes but is much more than just "louder" is the fullness of the sound you get from a good sound bar. In fact, a full sound can be experienced at any volume level. 
Think of the opposite of a thin, weak, tinny sound as what we're striving for here. Pretty much what you get from your stock TV speakers these days. In the past, you could really only get a full sound out of enormous boxy speakers sitting in your room and taking up tons of space. 
As a teenager, I loved my tower speakers. The bigger the better. But in our minimalist lives these days where we're looking for cleaner, clearer rooms with less clutter, smaller is often better. So, can we get a full sound out of small speakers and soundbar systems? With the Vizio V51-H6, I think we can.
Again, remember the price point here. You won't be getting stellar audiophile-level fullness and clarity, but I'm so far very impressed with the fullness of the sound we're getting from this Vizio surround sound system.
The Vizio sound bar's bass
Sometimes, yes, it's all about that bass. And this Vizio sound bar loves to deliver bass. It's one of the funner aspects of listening to this surround sound system; however, you may need to fiddle with the levels to get the bass just right for your mix.
Between the bass settings on the sound bar itself and the subwoofer settings, you can get LOTS of bass from this system. But the remote does allow a lot of control over shaping your sound. So, if you're looking for a less bass-heavy experience, you can get that too.
Dialogue and the separation of sound
The sound separation and improvement in dialogue clarity represent potentially the biggest benefits for us. My wife has always had more trouble picking out speech in a movie or show, and with the Vizio, her problems are pretty much solved.
Watching and listening to movies with a lot of movement or a really complex environment is a completely different experience now compared to the internal TV speakers or even our smaller Bluetooth speaker.
I went through a bunch of "demo" and "test" videos on YouTube that featured various DTS video samples, and some with Atmos as well. There's a popular DTS clip from Jurassic Park that is particularly fun and shows off the capabilities of this Vizio sound bar really well. If you end up picking one up, check it out.
Surround sound on the Vizio V51-H6 – DTS Virtual:X
So, let's talk a little bit about how this sound bar deals with surround sound and whether or not it's worth any kind of hype.
The Vizio V51-H6 does not feature Atmos, but it does have DTS Virtual:X built-in. DTS created Virtual:X in order to create an immersive experience where it was difficult to achieve traditionally. Here's what they say on their website:
DTS® Virtual:X enabled sound bars, TV speakers, or AV receivers are capable of delivering an immersive home theater experience with as few as two speakers, transforming your movies, music, or games to deliver life-like sound above, beside, and behind you.

Designed to perform in any room regardless of size, layout, or acoustics, DTS® Virtual:X technology is a flexible solution for any room configuration or budget.
The marketing copy sounds very intriguing. Does it live up to that? Sort of.
The surround sound experience here is not what you would expect from a seven speaker top-of-the-line product. However, for the price, this Vizio sound bar system is a great choice. There is definitely separation in the sound when watching a movie or playing music.
Sounds moving from side to side:
The Vizio does a great job here. I think this is one of the reasons that the sound feels so full. You can hear things moving from side to side quite easily, and the overall feeling of space is one of my favorite aspects of this sound system.
Sounds behind you:
We've set up the satellite surround speakers just behind us as we're sitting on our couch. It's very subtle, but the sounds are there behind you. Sometimes it's a bit too subtle for my tastes, but I'll talk about that in just a bit. Between the subwoofer and the surround speakers, you get a pretty solid "all around you" kind of sound.
Sounds above you:
This is probably the weakest point of the surround sound for this Vizio sound bar. DTS Virtual:X is supposed to create a great sense of height from as few as two speakers. However, we have five and a subwoofer, and we're not feeling an incredible sense of height. Is it better than the TV or our Bluetooth speaker? Absolutely! Just be aware that you may not feel that helicopter hovering right over your head like you were hoping.
What could be better about the Vizio V51-H6 sound bar
The main issue I have with the V51-H6 is the satellite speakers. I don't expect them to put out high-end, top-of-the-line sound; however, they do feel a bit underpowered and weak from time to time. They absolutely do their job when we're watching a movie or even listening to music. I can hear and feel the surround sound separation for the most part, but there are times I wish they were a bit more powerful.
I have read that some people feel the stereo separation on the Vizio V51-H6 is wrong and somehow a huge letdown. It's almost as if they're offended by the sound bar. While I won't argue that this sound bar is equal to the best options on the market, I absolutely feel like I got what I paid for…and more. The stereo separation, while it's not the best on the market, is great for everything we use it for, especially at this price point.
Vizio sound bar model comparison
Let's compare the Vizio V51-H6 sound bar to the Vizio SB3651n-H6.
The main differences are
Let's take a look at the pros and cons of the Vizio M51A-H6
| Pros | Cons |
| --- | --- |
| Features Atmos for better surround sound | Some reliability problems have been reported |
| HDMI In port | Plug and play issues |
| More general balanced sound overall | Sound starting and stopping |
Who the Vizio M51A-H6 might be for:
People who must have Atmos or are looking for a more sophisticated surround sound experience.

People who don't mind fiddling with their sound equipment to get things working and sounding just right.

Vizio V51-H6 sound bar wrap up
Should you buy one? I think you probably should. If you're looking for a basic surround sound system that's great-sounding, easy to connect and use, and solidly made then this might be your ticket.
We use ours for everything. We watch movies with it; we stream Spotify with it, and we enjoy regular TV shows and hockey games with it as well.
I do think that eventually, I will upgrade again (and I'll review my new choice here when I do), but since the sound is so good on this one and the price is so low…I'm not in a hurry to get rid of it.